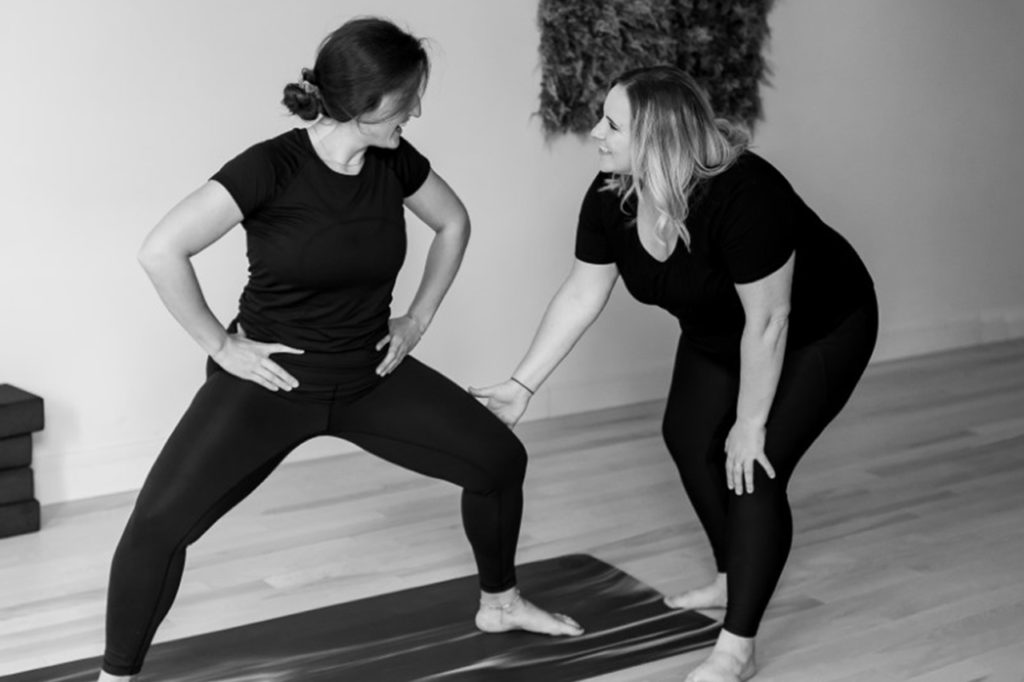 What is Yoga Therapy?
Yoga Therapy is a holistic healing art that applies evidence-based yogic practices in the treatment of specific health conditions. It strives to achieve dynamic balance of the body-mind system, addressing the whole person.
Tamara is our Yoga Therapist here at OM. She has a degree in Kinesiology and has been in the industry for over a decade! She has a thorough understanding of kinetics and body mechanics, and you'll know right away that you're in good hands. Yoga Therapy is a modality Tamara uses to achieve balance throughout all of your body systems, creating an enjoyable experience – combining movement, breath and stillness so you feel your best, mind and body!
"It feels like I've known Tamara forever. She makes you feel so comfortable right from the start." – Client Review 
Yoga Therapy is rooted in the practice and beliefs of yoga, but is not the same as a yoga class. A Yoga Therapist incorporates movement, meditation, guided imagery, and yoga postures in a 1:1 session, to improve and maintain physical and mental health. Yoga postures are used to address specific concerns or goals, and incorporate breathing techniques used to energize or calm.
"Yoga Therapy is for every body!" 
 Who is Yoga Therapy for?
No prior yoga knowledge or experience is required! Yoga Therapy can also help address many common ailments, from back pain to emotional distress, and help build strength and bring awareness to mind and body, supporting you through all of life's stages and challenges!
Injuries
Pain
Age related discomforts
Pregnancy
Pelvic floor
Mood Disorders
Stress
Digestion
Builds strength and awareness
And more!
 The International Associated of Yoga Therapists was founded in 1989, and the practice of Yoga Therapy hit the ground running! It is continuing to grow as a popular, holistic approach! Yoga Therapy with Tamara can be billed under Kinesiology for most extended health benefit plans.
Tamara also often works with our Physiotherapy team, so there are a few ways to come hang out with her at OM! Schedule a free consultation through our online booking system to say hello and learn more about Yoga Therapy.
Learn more about Tamara
Learn more about Physiotherapy
Yoga Classes at OM