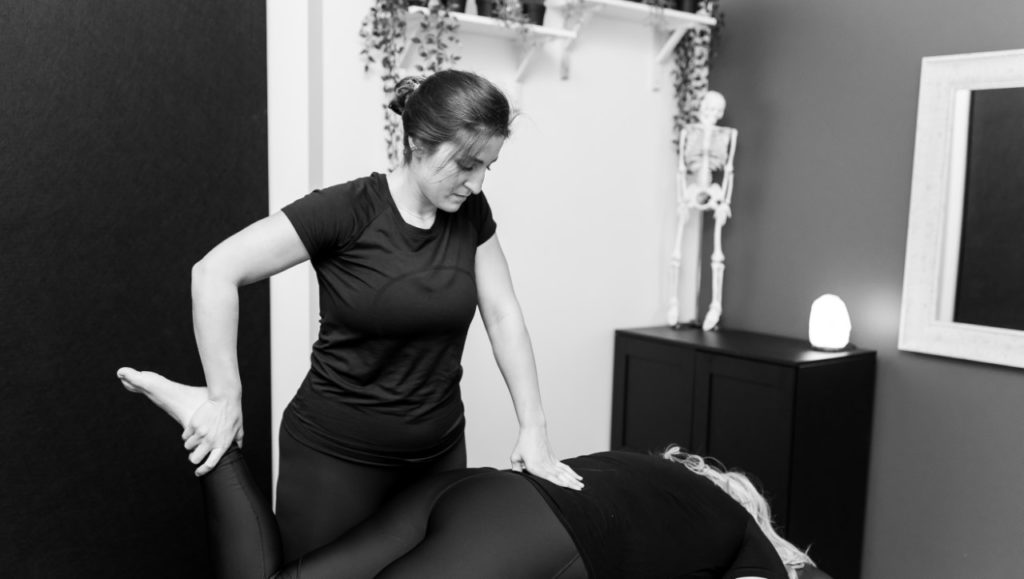 Osteopathy is quickly becoming a popular choice in the world of manual therapy – and if you've been to see a Manual Osteopathic Practitioner, you are already in the know!
Osteopathy is a gentle, non-invasive manual therapy that treats the body as a whole.
______________________________________________________
"What does an Osteopath do?"
"They move you around. Sometimes you move around. Sometimes they press on areas, and they get you to breathe a lot."
"Is it like a massage?"
"Yes and no. It is another form of manual therapy, but it's more like seeing a mechanic as opposed to a massage."
"Does it hurt?"
"No, it's gentle – sometimes it doesn't feel like they're doing much at all! At times some spots may be tender – but it always feels better after!"
______________________________________________________
Melissa and Alex are our Osteopathic team here at OM, and they both have years of extensive training from the Canadian Academy of Osteopathy. 
The Osteopathic philosophy is that the whole body must function together for optimal health. If one area of the body is compromised, other parts will adapt and compensate for this, which can eventually lead to inflammation, pain and other health conditions.
The goal of an Osteopathic treatment is not to simply address the, "problem area", but to treat and balance all of the systems of the body. The classical osteopathic treatment (which has been around since the 1870s), aims to facilitate the body's own innate ability to self-heal and self-regulate.
What's the appointment like?
When you begin your journey with Osteopathy, you'll schedule an initial assessment visit. Melissa or Alex will take the time to chat with you, review your health history, identify any concerns you have and determine a treatment plan that's tailored specifically to you. 
You should wear clothing that you can move freely in, like shorts and t-shirt or leggings/sweatpants and a t-shirt. Your first appointment is 45-60 minutes. Subsequent appointments are 20-30 minutes.
Should I see an Osteopath?
Osteopaths treat people of all ages – from newborn to the golden years. We often have babies in the clinic after treating mom throughout pregnancy. Being born is not easy! (Yes – osteopathy is safe and fantastic to support your changing body throughout pregnancy!) We have clients into their 90s that feel better in their bodies after a visit to see Melissa or Alex.
You don't need to have an injury to see an Osteopath. They focus on alignment and your overall wellbeing as well. Our bodies are fantastic at hiding things from us, and everyone can benefit from regular maintenance visits to ensure everything is fine tuned. Prevention, prevention, prevention!
What does Osteopathy treat?
Joint Pain and Discomfort
Athletic Injuries
Inflammation and Swelling
Digestive Issues in Adults & Babies
Headaches
Back Pain
Muscle Spasms, Pain & Stiffness
Colds, Allergies, & Head Congestion
Pregnancy Related Changes & Discomforts
Do my benefits cover my visit?
Probably!! Osteopathy is not a regulated profession; however most extended health benefit companies DO recognize it as a health service and cover the service.
Initial Visit $140
Subsequent Visits $70